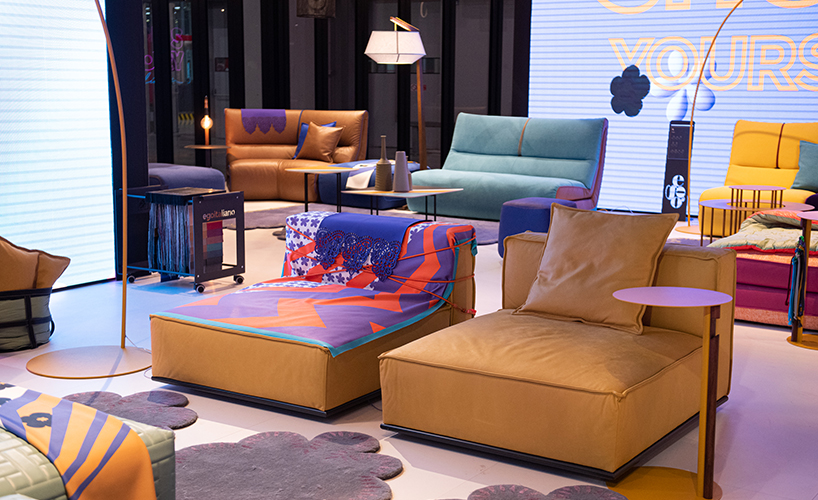 Decoration – Changing
EgoItaliano surprises us with an exceptionally decorative and interactive concept. You set to work with a range of accessories to decorate your sofa or armchair with layers. One way now, a different way later on. Changing is of course a part of it.
The concept revolves around expressive colours, layers and straps as the latest trend. With the accessories you can express yourself creatively, making your sofa and therefore your interior more lively and dynamic.
So what accessories are on offer?
5 mm-thick Neoprene mats that you can lay across your backrest or armrest (or use as a placemat.) The 'lace' edges recall a nostalgic sitting room: the snow white crocheted throws on the ladies' and gentlemen's armchairs.
Thick quilts to lay across the sofa and/or cosily nestle beneath. Shiny orange nylon on one side, matt green on the other. Silk scarves that you can drape over the sofa. And to keep everything together, or actually fix it all in place: bungee straps, a nod to the old-fashioned luggage rack on the roof of your car. Your pet won't be forgotten: a lightly quilted denim mat (with removeable cover) protects your sofa and is delightfully soft for your pet to lie on. What's more, you can roll up the mat, buckle it in place with a bungee strap and sling it over your shoulder to take outside.
Every one of the accessories is colourful and multifunctional. The concept has been developed in collaboration with Zerolab, a consultancy studio specialising in bags and fashion accessories. The designs are by Isabella Disanto.

https://www.egoitaliano.com/en/