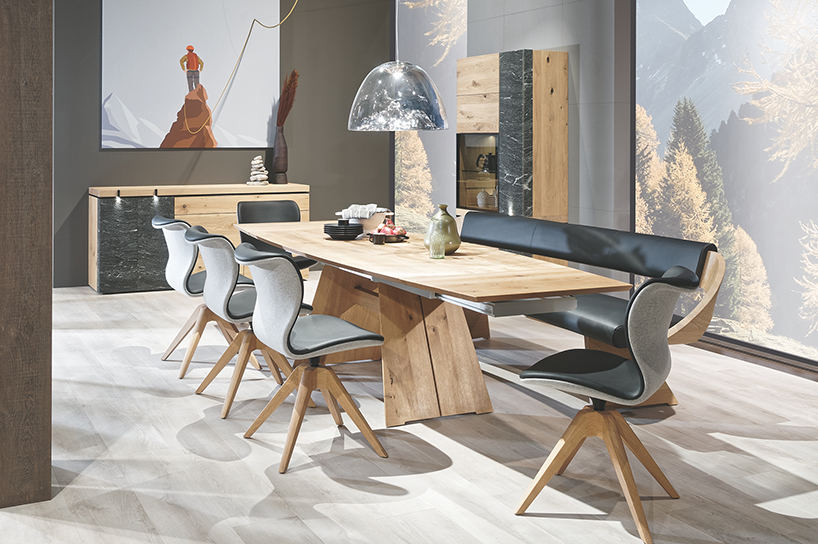 Feel the Alps
Voglauer is often associated with the Alps and their surrounding natural environment. Solid wood is in the firm's DNA, but time has not stood still.
The latest collection V-Rock is first-rate urban design: a symbiosis of age-old, contrasting materials with intriguing textures; a purist formal language with an organic twist.

The mix of natural materials is quite clearly inspired by the Alps, with their gigantic rocks and endless forests. V-Rock combines solid 'alteiche' or 'wildnoten' wood with granite. These form a tactile contrast in complementarily colours. The warm wood with its woodgrain versus the cool, raw-textured stone that's been scarred by the elements. You want to spontaneously touch and feel the natural designs, to trace the lines with your fingers. In the tabletop, a constructional design detail stands out: the end-grain wood of the support. That too is intriguing, making you reach out and touch it.
The eye-catchers in the collection? The dining room chairs with their sculptural seats, the dining bench with its flowing curves and solid wood armrest. These skilful pieces of furniture display masterful craftsmanship.

From a practical point of view, the dining table can be extended by 48 or 96 cm, and the coffee table is set on wheels. The seats of the dining room chairs automatically turn back.
V-Rock ties in with V-Montana with its 'spaltholz' details. Tactile impressions lend an extra dimension to the modern design.

https://www.voglauer.com