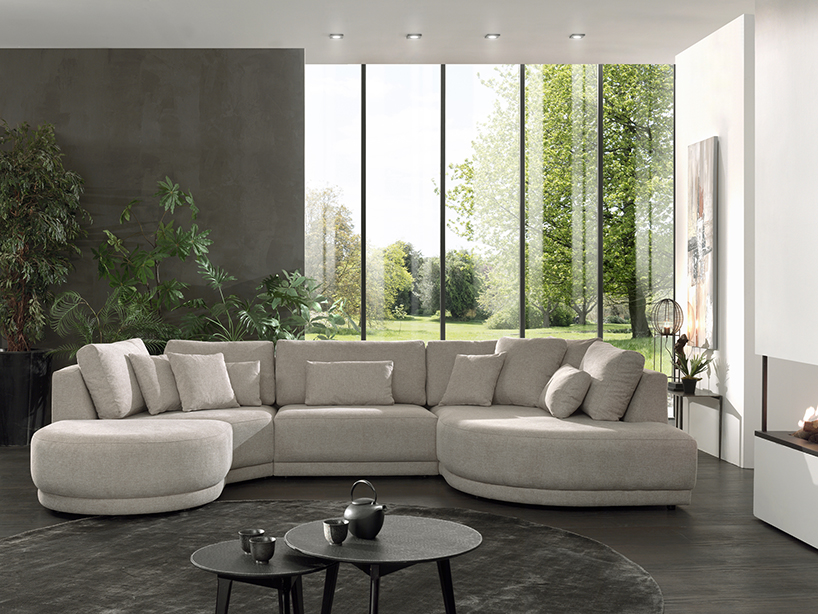 U or L
Is lounging a fixed ritual or a spontaneous act? Varam allows for both.
The Lucca modular range has both a fixed chaise-longue element and loose lounge pouffes on which to recline. The concept revolves around the balance between practical and emotional solutions. What is handy? What feels good?
The substantial, half-height back (70 cm) creates a sheltered feeling. Time to shut out the outside world for a while. The rows of loose cushions give you a sense of security, the idea of a safe and cosy nest.
The contours combine geometric planes with organic lines. At the rear the backs form straight planes, whilst at the front they are ergonomically chamfered. Seats are already subtly rounded. In contrast, the lounge elements have a markedly organic silhouette. The corners are half-rounded, the chaise-longue ends with a quarter circle and the pouffe forms a half moon. Rounded ends are both visually and functionally more practical in the space. In any case, Lucca is designed for smaller living: the modules are quite modest in format.
To give you an idea: the pictured combination is just 3.50 metres wide. Lucca really comes into its own in the symmetrical U-arrangement. But of course any other arrangement is possible too.
The opposite of Lucca is Boaz, a pure cubist model with a low back. How streamlined can you get? Nevertheless it contains all the reclining functions such as the electrically adjustable headrest. That offers a different lounging experience.