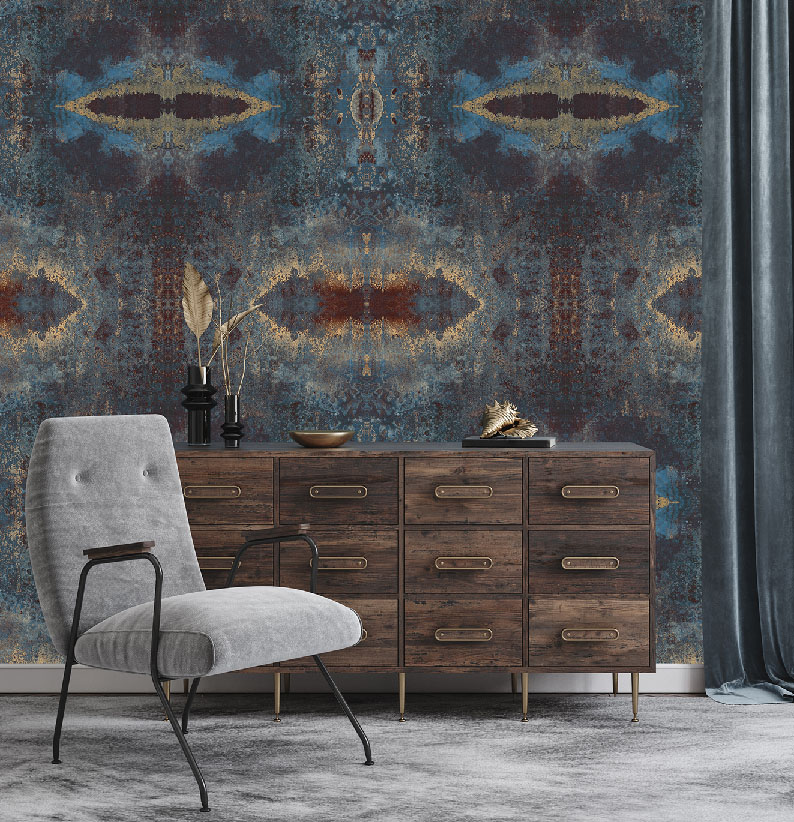 Artistic metamorphoses
The decorative interior trend brings monotone walls to life. Atlas Wallcoverings is an expert in this field.
The collection has really taken off: from seamless, room-width wallpaper to acoustic wall panels, waterproof wall coverings and bed linen. Now it is time to switch to different sales channels, to distribution via interior decorators and other interior specialists.
Just imagine: a full wall papered with a microscopic image of the oxidation process (Destiny collection). You can follow all the different stages, the capricious progress from metallic blue to rust brown. Or antique Moroccan tiles modernised to create a Western tile tableau. From abstract to figurative, natural or extraterrestrial, for the baby bedroom or a high-end resort, the range is so varied that there is something for everyone. You will be immersed in the wonderful world of colours, motifs and textures.
All artworks are designed digitally in the in-house studio. The creative process is akin to experimenting with digital collages: of photos, patterns and backgrounds.
To give you an idea of the products: wallpaper that's 13 metres wide and 4.60 metres high, in a single piece. Two people will certainly be sufficient to paste this onto the wall. Ceramic tiles and panels (3.5 mm thick) for the kitchen, bathroom and why not, the swimming pool. You can transform the dullest of walls into a monumental artwork. Digital paintings on Dibond® or Plexiglas, but never on canvas. Even the floors and the bed do not escape from this artistic decoration trend.