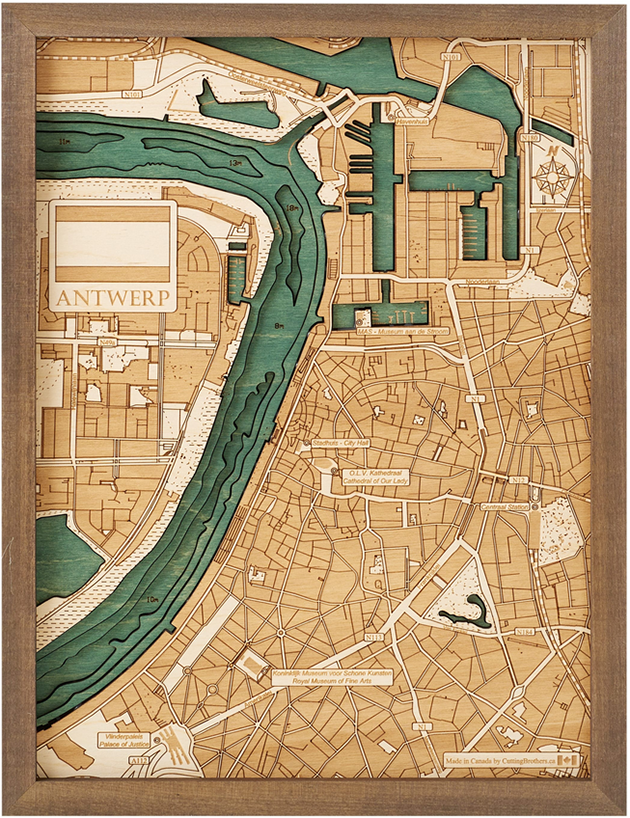 Geographical woodcarving
The map of a country, wine region, island, bay or the North Sea Coast.
The city map of Antwerp, Marseille, Bielefeld or Venice. How exclusive can a map be? Just leave it to Cutting Brothers (Canada). They make 3D maps in wood: geographical woodcarvings, intended to be mounted on the wall as artworks.
The idea sprang from a passion for geography. The maps are carved out using a laser machine, and you'll find every (contour) line of the original map in a 3D perspective on
the wooden wall map. The 17 formats range from 30.5 x 20 cm to 152 x 61 cm.
Since the beginning in 2018, the portfolio has expanded to include maps of countries, cities, islands, bays, wine regions, river courses (e.g. the Upper Rhine), coastlines and more. There are also maps of marinas, airports, golf courses and ports (Zeebrugge). There is no end in sight. Cutting Brothers wants to render the whole world in 3D wall maps.
In Brussels, maps including the Belgian coastline from De Panne to Knokke-Heist, the Channel Islands and the Atlas Des Grands Vignobles De Bourgogne (Cote de Beaune and Cote de Nuits region) will be presented. Is your map not amongst them? Who knows what Cutting Brothers could mean to you.
All maps are made in Canada and delivered across Europe from a central warehouse in Germany.
https://www.cuttingbrothers.de