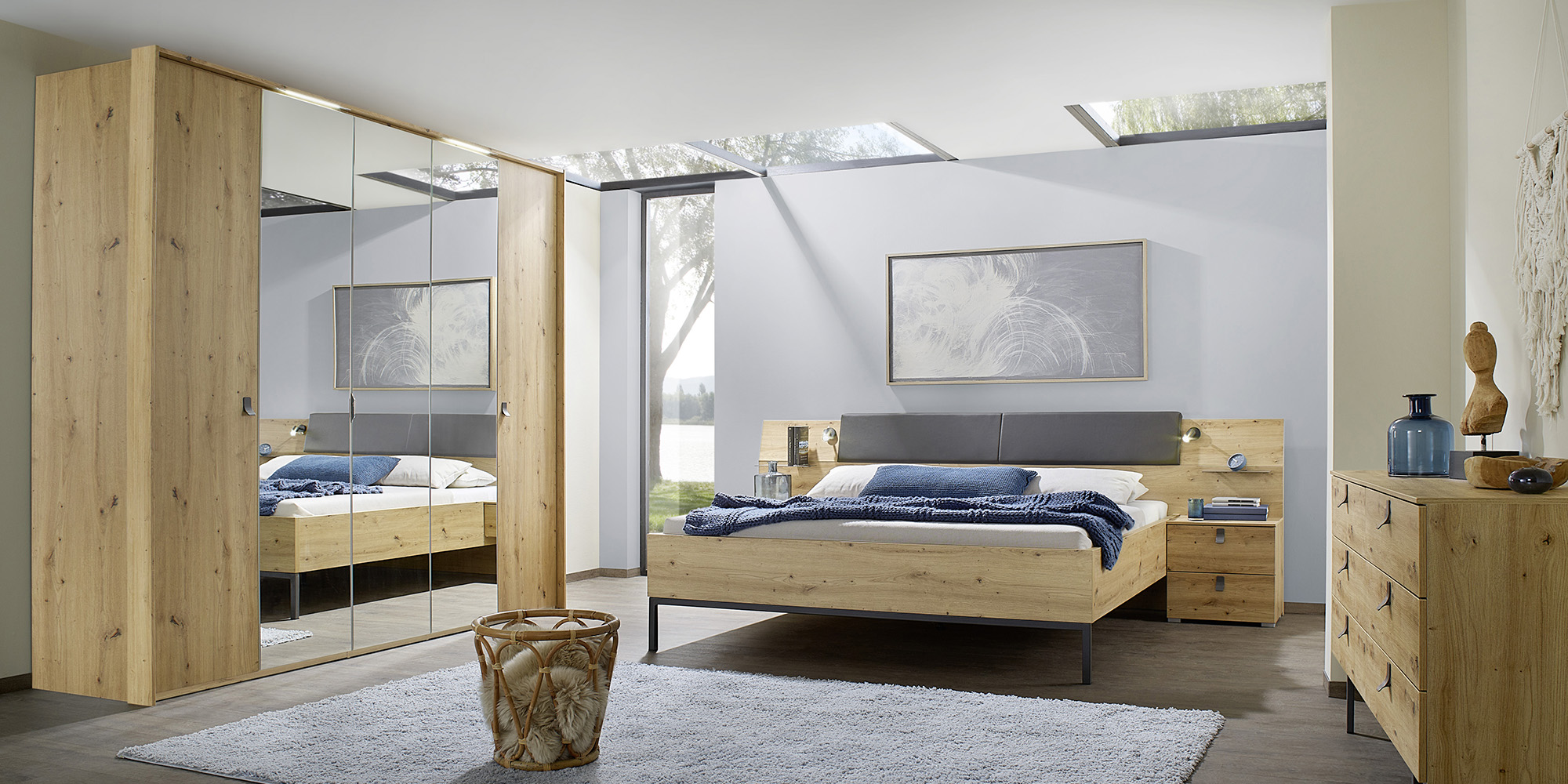 Past meets Present meets Future
2022 is the year of Rauch's 125th anniversary (1897-2022). This is being commemorated with the Evela bedroom.
The industrial look is a mix of nostalgic and modern elements. 2022 is also the year of a cabinet innovation (patent pending): a corner cabinet with stile-free panorama doors.
The name of the anniversary model has been very fittingly chosen. Evela stands for wisdom, creativity and romance, among others. The bedroom reflects 'Past meets Present'. The industrial style alludes both to the romanticised, industrial era and to the current industrial interior trend. The 'Artisan' oak door suggests centuries-old, aged wood. The graphite-coloured metal is a nod to the black steel of the factory architecture and the machines. The striking handles on the drawers and hinged doors represent a creative twist. The slim design and the accessories are totally contemporary. The rear wall panel is fully equipped, and includes metal or wooden shelves and optional lighting. The beside tables can either stand or hang. Part of the angled wall panel leans gently backwards, ideal for leaning against. For extra comfort, it can be upholstered with a bed-wide back cushion. The dark-coloured upholstery accentuates the woodgrain of the oak veneer.
The Quadro Corner is an innovative corner cabinet: the panorama doors are fitted without stiles. You can access the shelves unhindered, and thus walk into the cabinet. In an area of just 1.8 x 1.8 meters you have oceans of storage space. The Quadro Corner fits perfectly into the smaller living trend and future. Rauch meets the Future.