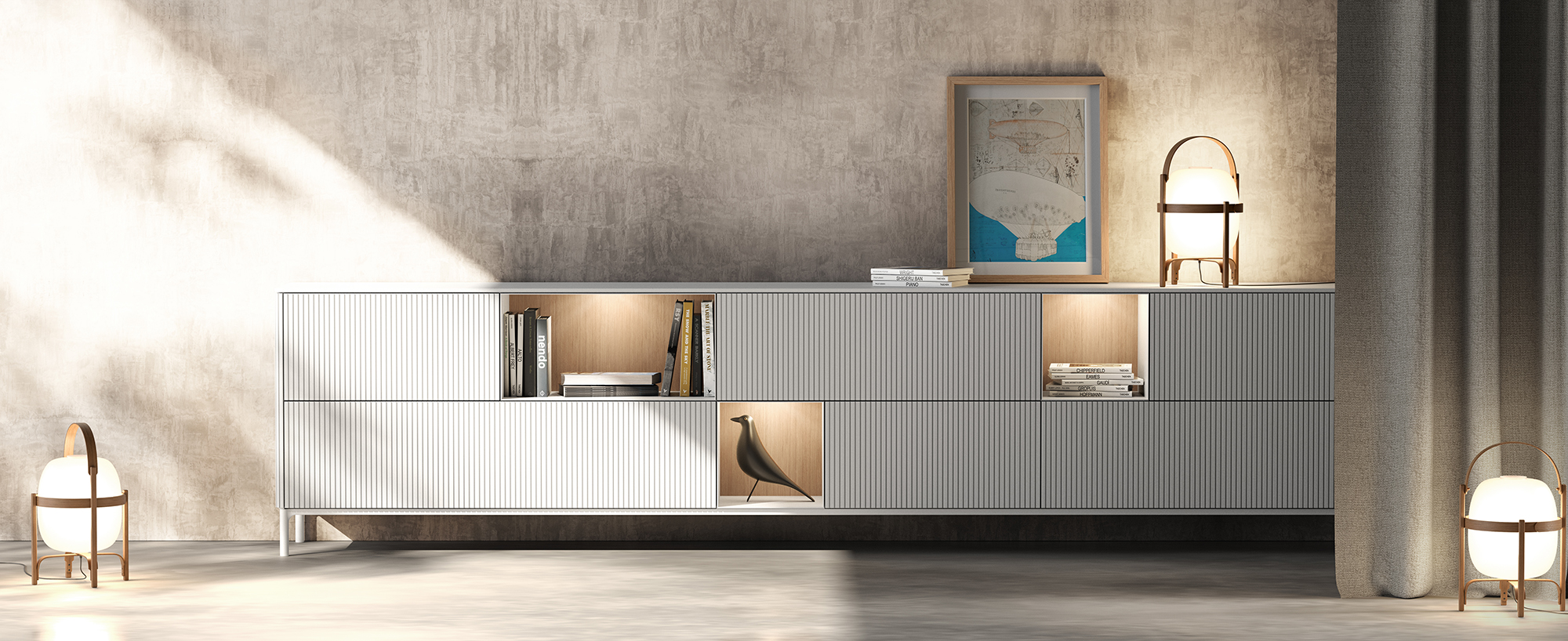 Rounded continuum
The architectural design concept Ron and LEGO® have several things in common: their building block principle, their refined design and their long lifespan.
The furniture concept is a Belgian co-production from Saunaco and Studio Segers. What truly stands out are its softly rounded corners and aesthetically pleasing continuum. All sides form a continuous, cohesive whole ─ whatever the finish. You have the choice between a smooth or a grooved finish in stained or lacquered oak, powder-coated MDF, HPL and real glass. NB, the profiled MDF is epoxy lacquered! You often see this in bedrooms and kitchens, but it is unusual for living room furniture. (While powder coating is more durable and environmentally friendly than other techniques.)
The crux of the design? The ribbed profile runs right around the cabinet. There are some forty modules in the range, including aluminium inset boxes and integrated solutions for lighting and audio. The cabinet can have an open base, set on an aluminium profile of maximum 340 cm in length. Only the four feet are visible.
You can work out and visualise the configuration with Furnplan. Ron can be endlessly (re)configured, in height, width and depth. The only practical constraints are your available living space and your own height. You want to keep the contents of the cabinet within easy reach. You have endless scope to make changes. It doesn't always have to stay the way it's configured now. The cabinet configuration evolves with where you're living and your life stage. Dismantling it and building it afresh is part of the point! That's life, that's Ron.