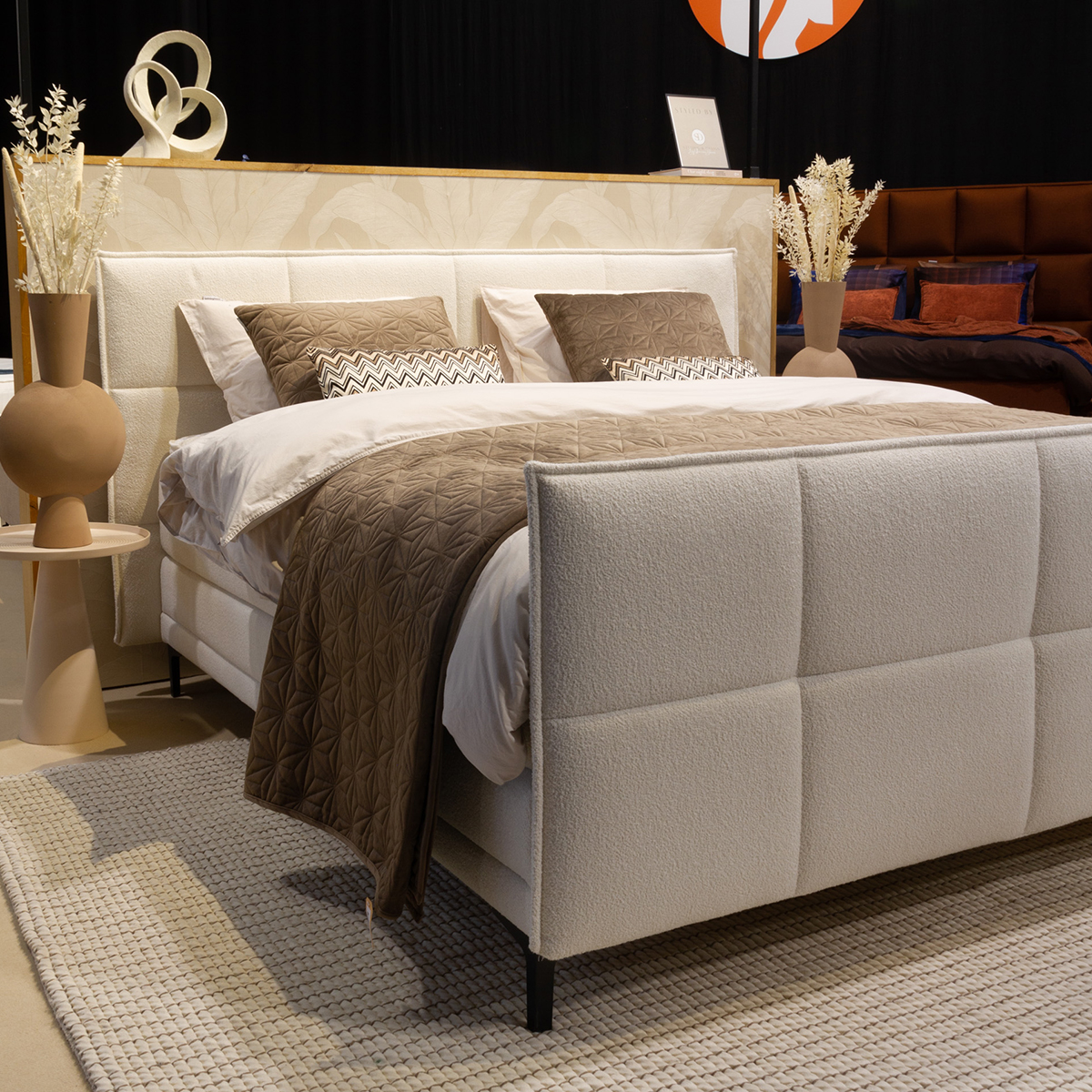 From technics to aesthetics
The focus was always on ergonomic sleeping comfort.
Now attention is also being paid to the beautiful wrapping: the design and styling of the beds. This meant that Ultima Bedden garnered a great deal of attention. At the same time, some further technical solutions have been developed, such as the fully modular high-low bed.
The Stricta bed exerted some serious stopping power. Wow, a box spring bed with a breathtaking foot end! Where can you still find such a thing? This really hit the spot. The square tufting sets the head and footboard apart.
The Diagon bed is the opposite extreme, with a rather pompous, luxurious headboard that can be as much as 290 cm wide. This truly makes a statement in your bedroom.
For the styling, Ultima worked with Shannon Daams (SD Styling). She has created the various mood shots.
In terms of technics, Ultima has introduced a modular high-low system. You can always upgrade each adjustable box spring to a height-adjustable bed. Take a twin bed for example. If one partner is ready for a high-low bed, then this can be done in no time. The frame is already prepared for this.
A second innovation is the sustainable modularity of the Varis pocket spring mattresses. You select the ideal pocket spring interior (2 standard and 2 profile options) and the desired comfort topper (5 options). However the pocket spring interior and comfort layer are not glued together — for two reasons. If the configured mattress does not fulfil expectations, then the interior or the comfort topper can be replaced simply and quickly at home. Has the mattress reached the end of its life? Then it can be easily dismantled. That is also the reason why the ticking is made of recycled and recyclable materials.